Private wellness rental for 3 hours for 2 persons + refreshment package BASIC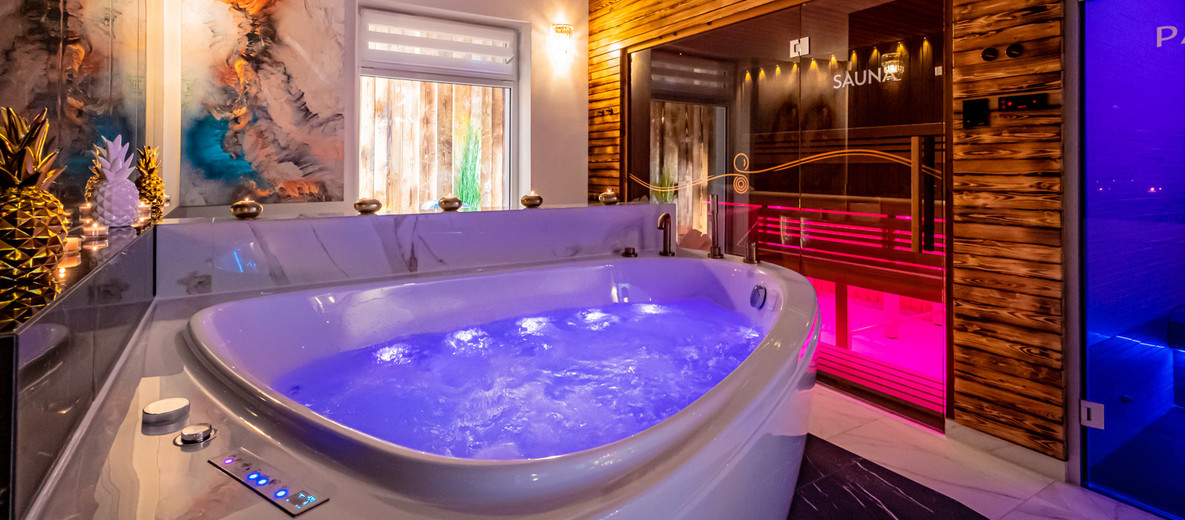 Gift voucher for:
Private wellness rental for 3 hours for 2 persons + refreshment package BASIC
Refreshment package BASIC: jug with citruses and herbs (min. 0.5l per person), selection of teas
For details of refreshments see the section "Pricelist".
Premium environment

Indulge in our five-star comfort. All you need is to be in the mood for relaxation and recharging your batteries. Everything else is available in our place. Our interior was designed with an emphasis on quality, premium materials and maximum experience of our visitors. In our place, you can always relay on 100% cleanliness and hygiene.

Absolute privacy

The area is available only after booking as a private rental of the whole place, including all services, accessories and the changing room. Nothing and no-one will disturb you during your relaxation.

Multifunctional space

For relaxation of your body and soul, at your disposal there is a Finnish sauna, a steam cabin, two hydromassage/bubble/Milk O2 baths, each for two persons, two rain/hand held showers, cooling water bucket, warming/cooling water mist, four comfortable spacious loungers, a changing room with toilet.
All technologies and the whole area boast smart scenic chromotherapy. A sound system is installed in the wellness area, featuring an option to select music and, as a matter of course, you can use the high-speed wi-fi connection.
Vouchers are valid for six months of purchase. There is no need for worry though, since vouchers can be used for as many as 6 months of expiry. However, in such case, for an additional fee of CZK 100 must be paid for every commenced month.
If our centre needs to be closed on the grounds of governmental measures, the validity of vouchers will be automatically extended by the period of closure!
Procedure of purchase
After ordering, you will immediately receive an electronic gift voucher to your e-mail, for printing, and with instructions for payment by bank transfer (instructions are also available on the confirmation page after you submit your order).
The voucher code is valid (and the voucher can be used) only after the payment is credited to our account.
We will inform you by e-mail as soon as your payment is received.
To redeem gift vouchers, booking must always be made for a specific date in advance.
If you wish to buy more different vouchers, please place a separate order for each type of vouchers.
Please use the following form to order a voucher.
Order a gift voucher