Hydromassage baths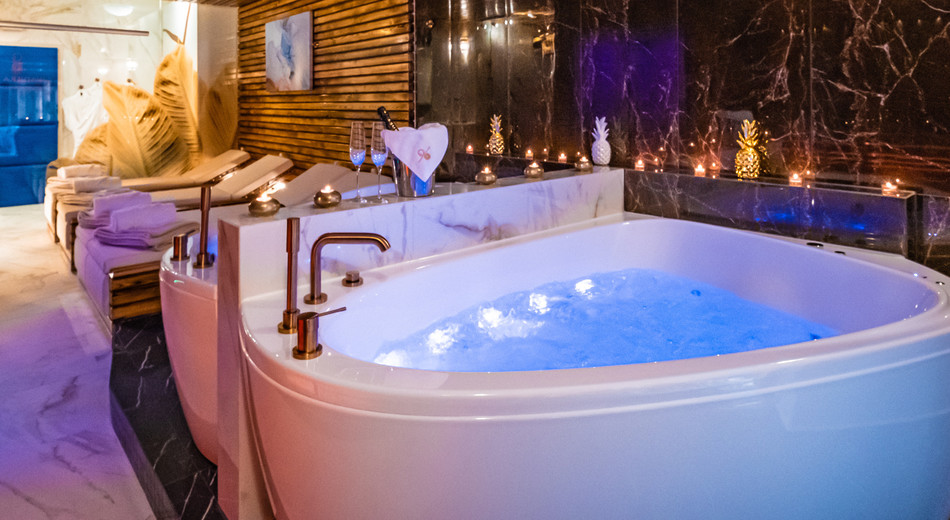 Hydromassage / bubble / Milk O2 baths with chromotherapy
The two-seat hydromassage baths in the private wellness centre in České Budějovice, each with the volume of 300 litres, provide several types of procedures: hydromassage, bubble bath (air massage), lymphatic zone massage, four pre-programmed massage programmes combining hydromassage and air massage. Hydromassage and bubble massage can be combined, and their intensity and amount of air can be controlled. One of the baths is equipped with the unique technology Milk O2.
The use of hydromassage baths will provide you with complex relaxation. Deep warming up of your body alleviates pain, improves breathing, promotes regeneration and rehabilitation. Massage jets support blood circulation and relax muscles.
Bubble bath offers a very pleasant experience. During the bathing procedure, air bubbles are created, gently massaging the skin through their flow. Bubble bath is often included in spa procedures. Bubbles activate nerve endings, gently massage and promote blood circulation in the skin. Bubble bath also stimulates the metabolism.
The lymphatic zone massage is a great choice especially for those who look for relaxation e.g. after long periods of standing or sitting, or who need to support the function of the lymphatic system (e.g. in the case of feeling of heavy and swollen legs, fatigue or cellulite). Please note that this massage does not replace professional manual lymphatic drainage.
Technology Milk O2
The "milk bath" (MILK O2) is definitely worth a try. This is a bath in a specially aerated water that looks like milk. Special jets drive air into the water, where the air is broken up into tiny bubbles. These bubbles are trapped in the skin, creating a thin film.
The procedure is gentle and is intended as a means for a very pleasant relaxation, while also evoking a feeling of freshness. This is an ideal procedure mainly for those who wish to experience something different from the classic bubble bath. Just lie down, and indulge in million mellow bubbles, gazing at soothing abstract paintings on the ceiling above the baths.
Oxygen reduces the action of free radicals, which cause the skin aging. Oxygen encourages the production of collagen, which helps firm the skin. Your skin will be supple, and you will leave the bath feeling young and fresh. This procedure is not combined with any other bath procedures to ensure that the air bubbles are not stirred and vaporize from the water.
Chromotherapy
Chromoterapie dává hydromasáži zcela nový rozměr. Chromoterapie je léčba světlem, která díky zvoleným barvám pozitivně ovlivňuje naši psychiku. Dochází k vyvážení energie v lidském těle a jejímu doplnění v psychické i emocionální sféře. Ve vanách barevné diody prosvětlují vodu a vy si v nastavení můžete vybrat, které barvě dáte přednost nebo je nechat automatický prolínat.
Chromotherapy gives a new meaning to hydromassage. Chromotherapy is a treatment by light, which, thanks to the selected colours, has a positive effect on our psyche. The energy in the body is balanced and replenished in the mental and emotional spheres. In the bath, coloured LEDs illuminate the water, and you can select in the settings the colours you prefer or simply let the colours blend automatically.